Prospective students and families: scroll further down this page to see recent data on how UCSB grads fare when it comes to health professional school applications (MD, DDS, PA, etc.), or go to the bottom of our "
About Us
" page where we answer a number of frequently asked questions. 
Fall 2023 Pre-health drop-in advising via Qless (beginning Week 1, Oct 3):
Mondays 9-1:30 (virtual only from 12-1)
Visit our 
Qless queue
 and follow the prompts to speak with a pre-health advisor during normal advising hours. On most days, Yessica or I will be in our offices at 2105 North Hall, but students should still get in the pre-health q-less line so we can address students' concerns in the order received.
Prospective students are strongly encouraged to thoroughly review this website (check out our FAQs by scrolling to the bottom of our "About Us" page) and email questions they may have to PreHealthInfo@LTSC.ucsb.edu
For those seeking to make an appointment with a pre-health advisor, please read the following:
If you are a first- or second-year student in good standing and have not met with one of our pre-health peer advisors, THEY should be your first pre-health appointment. Scheduling an appointment with Dave, Yessica, or Dr. Blain without previously meeting with one of our knowledgeable pre-health peer advisors may result in your appointment getting canceled.  See below to set up an appointment with one of our outstanding peer advisors: 
To talk with Manasvi (Pre-Med, Biopsychology), click here
To talk with Natalie (Pre-Med, Bio BS), click here
To talk with Ashley (Pre-Med, Microbiology, Phil minor), click here
If you have already met with a peer advisor, if you are a transfer student, if you are on academic probation, and your questions involve requirements, schedule planning, career choices and mentoring, or applications and admissions, and want to schedule an appointment with
- Dr. Blain, 
click here
(Please note: First year students should not schedule with Dr. Blain. Also: do NOT schedule an appointment with Dr. Blain if your main questions involve schedule planning, course selection, AP credit, etc; rather, schedule with Yessica or David if that is your concern).
UCSB Health Professions Advising provides information and resources to students who are preparing for careers in various areas of healthcare. Whether you hope to become a physician, dentist, veterinarian, nurse, physician assistant, or other healthcare professional, we offer curriculum and academic guidance, including course selection and scheduling as well as career and admissions counseling.
Sincerely, 
UCSB Health Professions Advising Staff
Follow and Like us on Facebook!
 
Follow our Instagram!

 

Be sure to check our Facebook page for important news and updates!

 

Follow our instagram page ucsbprehealthadvising
Statistics on Professional Schools UCSB Students Have Been Accepted To 
Are you "on the list?" If so, please consider adding your name in the "MD" tab of our spreadsheet
Interested in getting perspectives on the MD application process from two recent UCSB grads (Bio, '21 and BioPsych, '22)? Check out this video here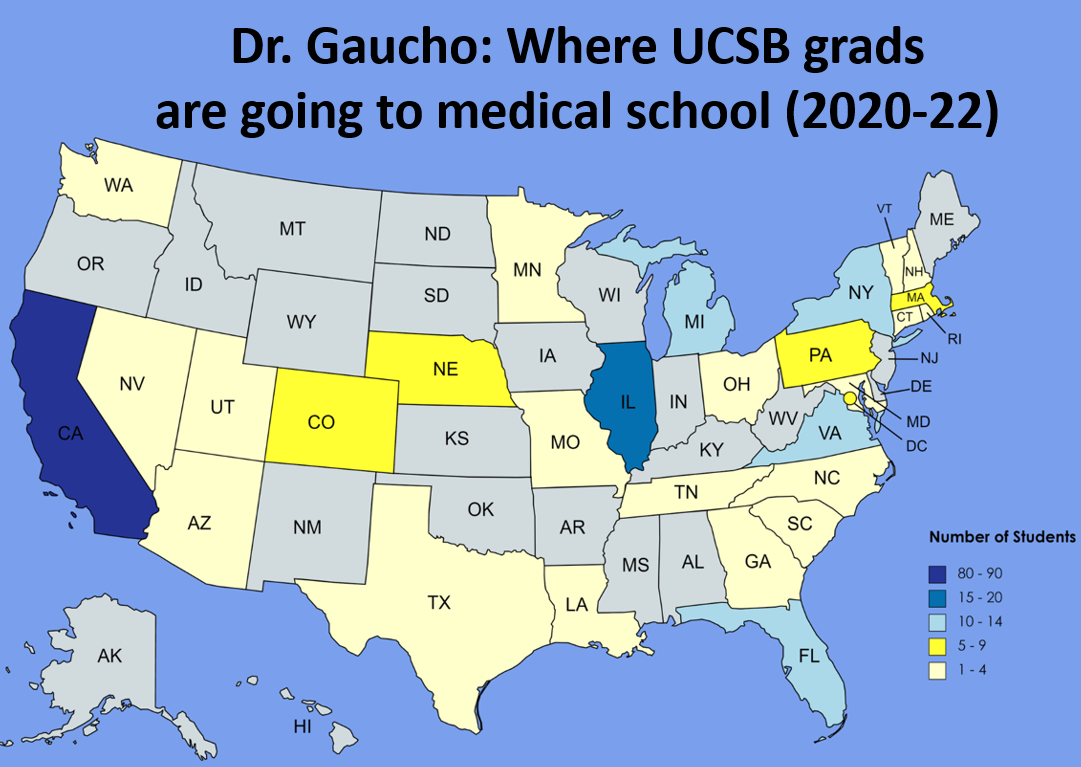 Health Professions (besides MD)
Click on the name of the program you are interested in to see more details on average GPAs, test scores, and schools students were accepted to. 
Attention UCSB Alumni in Health Professions Schools!
If you are willing to be contacted by UCSB students with questions about your journey to professional school, please list your name, school, and email in the google sheet linked here.